SPECIAL FEATURE
Philip Ahn
Tia Carrere
Margaret Cho
Church of Rhythm
Michael Kang
Hiroshima
James Hong
Michael Kang
Bruce Lee
Jet Li
Keye Luke
YoYo Ma
Martial Law
Minoru Miki
Lea Salonga
Dalip Saund
George Takei
Kiana Tom
Tamilyn Tomita
Ming-Na Wen
Anna May Wong
Russell Wong
HOME

SECTIONS
Actors
Actresses
Athletics
Authors
Cartoonists
Dancers
Directors
Film Festivals
Musicians
Newscasters
Photographers
Television Shows
RESOURCES
Asian American Films
List of Independent Films
Robert Payne's Choices
Upcoming 2003 Films
INDIE FILMS
Fish Sauce Breath
"Forbidden City"
Niche Films' Success
Quest for Length
Toyo Miyatake
REVIEWS
Beau Sia/StacyAnn Chin
Bend It Like Beckham
Def Poetry Jam
Flip Side
Kaani
Quest for Length
Take Care of My Cat
The Way Home
APA 1ST W/E CLUB
November 11, 2002
November 15, 2002
December 7, 2002
RESOURCES
Children Now's
FENNEC Database
Poop Sheet
Wanna Sell a Script?
BUSINESS INFO
Film Financing
2002 - Film Co, Statust
Hollywood's Managera
Murdoch in China
MEDIA INFO
4 Maverick Directors
Bollywood
Censorship
Disney Editing
Pusan Intl. Film Festival
Indie Directors Tales
Niche Networks
WB's 1st Chinese language Production


Interview with Eric Byler
Discover the Passions That is Behind
The Creation of the film "Charlotte Sometimes"
ASIAN PACIFIC AMERICAN FACTORS

US ASIANS: Do you consider "Charlotte Sometimes" an Asian Pacific American film or a film that delves into the complexities of relationships of people that happened to be Asian Pacific Americans?

ERIC BYLER:

I guess I set out to make the former, but ended up making the latter. US ASIANS: Which Asian Pacific American films played a key factor in the developement of your vision and talent?

ERIC BYLER: I mentioned "Yellow." (see caption on the "right")

I saw it with Jacqueline and Jeff Liu, two of my primary collaborators on "Charlotte Sometimes," at the NAATA festival in '97. There was a moment during the scene where Angie Suh is forced to give an impromptu recital on the living room piano. She reluctantly begins to play, then pauses when she hits a wrong note. Without looking, she can feel her entire family cringing with disapproval.

I said to myself - that is so TRUE! And so did everyone in the audience.

There's another APA film that I happened across a few years earlier, right after college.

My student film, "Kenji's Faith," was in the Sundance Film Festival the same year as Kayo Hatta's "Picture Bride." The experience of eeing "Picture Bride," as well as the other films that were there that year, inspired me to make artistic films rather than genre films.

Since artistic films are personal films in my opinion, I knew I'd be making films with Asians and Pacific Islanders in them.

THE CAST OF
CHRIS CHAN LEE'S
"YELLOW"

This 1998 film includes in its cast actors such as Soon Tek Oh, Amy Hill, Emily Kuroda, Sharon Omi, Charles Chun, Burt Bulos, Michael Chung, Angie Suh, Mia Suh, Lela Lee, John Cho, Jason Tobin and, Mary Chen.

"YELLOW" wass a critically acclaimed drama/comedy about one life-changing night in the lives of eight friends in Los Angeles.

A dozen Asian American rock and hip-hop bands are featured in the film's soundtrack.
US ASIANS: How did you initially meet Jacqueline and Jeff? Could you share the details on how your relationships developed into their collaboration on "Charlotte Sometimes?"
ERIC BYLER: Jeff and I were introduced by Philip Chung. My first conversation with Jeff was on the phone, and we talked forever. He's one smart and talented guy. He invited me to participate in an acting/directing workshop, where I directed improvisations of scenes I was writing for "Charlotte Sometimes." Jeff brought the character of "Justin" to life for the first time as an actor. After the workshop, I asked Jeff to help me write the script. Jeff and I both went on to direct plays at Lodestone with Philip producing and/or writing. Jeff is now producing and acting in a feature film written and directed by Philip, called "Children in the Mirror."
Jacqueline and I were friends long before we decided to work together. It happened that she was a great friend who was also a great actress. Our relationship enhanced the work, and vice versa.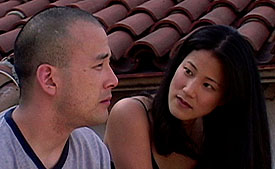 Michael Idemoto and Jacqueline Kim
US ASIANS: What is your perspective on the state of Asian Pacific American film movement?

ERIC BYLER: I'm excited. I've seen some really great APA films this year.
US ASIANS: What APA (Asian Pacific American) films would you recommend people to see and why?

ERIC BYLER: I recommend people to see them all. APA films are a record of this period in our history. It's important, so see them all.

This past year, I was impressed with Greg Pak's "Robot Stories," about the intrusion of technology on the human predicament. The segment about the two robots longing for a like companion particularly spoke to me— a beautifully subtle expression of bi-racial isolation, all the more powerful because Greg plays the male robot himself.

Justin Lin's "Better Luck Tomorrow" is one of my favorite high school films. I'd compare it to "Yellow," in fact it has some of my favorite actors from "Yellow." "Better Luck Tomorrow" does a wonderful job combining genres and keeping the audience guessing.
US ASIANS: Who are the actors from "Yellow?"
ERIC BYLER: Jason Tobin and John Cho. All the performances were great though.

I should also mention a wonderful short film by Grace Lee called "Barrier Device." Sandra Oh plays a woman researching the effectiveness of the female condom, and she figures out that one of her test subjects is dating her ex-boyfriend. In all three of these films, the story takes precedence over ethnicity— just as humanity takes precedence over ethnicity in real life. I think this is an important step in the right direction.
JACQUELINE KIM

EUGENIA YUAN

Jacqueline Kim attended the Goodman School of Drama in Chicago and performed in Chicago and New York before becoming a company member at the prestigious Guthrie Theater in Minneapolis.

Her theater roles include several of the greatest heroines of the classical stage, including Sophocles' Electra and Cordelia in Shakespeare's "King Lear." Jacqueline's feature films include Brokedown Palace, Volcano, Disclosure, and Star Trek: Generations.

Her television roles include celebrated guest appearances in programs such as "E.R.," "West Wing," and "Xena: The Warrior Princess."

Eugenia Yuan has guest-starred on various television shows including "NYPD Blue", "Martial Law", "Arrest and Trial", and "Beverly Hills 90210."

Her film credits include several independent features, a cable feature for Asia, and her first big martial arts action movie, which she shot last year in China.

She trains in various forms of martial arts specifically for film, and goes to Hong Kong and Beijing regularly to train with her teachers there.

Eugenia recently returned from Hong Kong where she starred in "Three," directed by Peter Chan (Comrades: Almost a Love Story, The Love Letter) with director of photography Christopher Doyle (Chungking Express)
To read about Eric's views on other subjects, click on the topics listed below

Part 1: Background Information (Family, Personal and Entertainment)
Part 2: Entertainment community support, Film reviews, Opening Dates
Part 3: Casting of the film, Michael Idemoto Profile, Plot, Working with the actors
Part 4: Asian Pacific American Factors, Jacqueline Kim & Eugenia Yuan's Profiles
Part 5: Community support, APA role models, Purpose of the arts
Part 6: Film Reviews and Nominations
Any questions regarding the content, contact Asian American Artistry
site design by Asian American Artistry
Copyright © 1996-2003 - Asian American Artistry - All Rights Reserved.